The Nordic Spa™ Sauna Barrel
Experience the benefits of traditional wooden steam Sauna Barrel, release tensions, enjoy the calming effect on your body and reduce stress
Produced from sustainably grown and certified kiln-dried Scandinavian spruce
Ecological and environmentally friendly, made in a completely chemical free production cycle
Extra thick sidewalls (58mm) for extra insulation and longer hot water experience
Heat-treated hot tub timber planks to ensure constant dimensions, insulation, and durability
Australia wide delivery as flat-pack kit or fully assembled
Your choice of wood-fired external or submerged (internal) heaters
The Nordic Spa™ Sauna Barrel
Experience the benefits of traditional wooden steam Sauna Barrel, release tensions, enjoy the calming effect on your body and reduce stress
Produced from sustainably grown and certified kiln-dried Scandinavian spruce
Ecological and environmentally friendly, made in a completely chemical free production cycle
Extra thick sidewalls (58mm) for extra insulation and longer hot water experience
Heat-treated hot tub timber planks to ensure constant dimensions, insulation, and durability
Australia wide delivery as flat-pack kit or fully assembled
Your choice of wood-fired external or submerged (internal) heaters
Why traditional steam sauna barrels are so great
No one is immune from stress. We all have our fair share of stress-related conditions, whether it is a headache, backache pain, or anxiety. That is why hot tubs are so popular. Spending time in a hot tub will improve your health and reduce the effects of everyday worries and stress.
The warm water of a hot tub increases the production of the hormone dopamine in the body. Dopamine is released by the parasympathetic nervous system, related to pleasure and relaxation, and known to counteract stress.
The release of the hormone reduces nervous tension and has a calming effect. Immersing yourself in the water of a hot tub will help to reduce muscular discomfort and stress.
This makes relaxing in a hot tub one of the most beneficial things you can do to improve your health.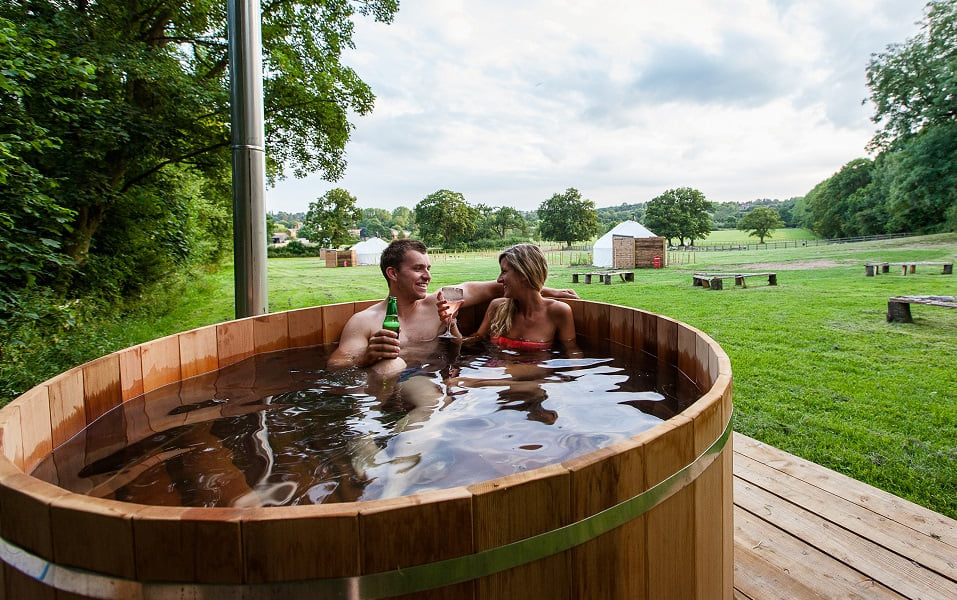 Our range of traditional steam sauna barrels
Hot tub sizes are available in diameters of 1.5m, 1.9m, and 2.2m.
The seating capacity depends on the heater arrangement (external or internal) and the diameter.
The 1.5m hot tub suits 2-4 people comfortably with an inside heater and 6 people in the same sized hot tub with an outside heater.
The 1.9m hot tub with an inside heater holds 4 to 6 people, or up to 8 people if the heater is located on the outside.
The largest-sized 2.2m wood fired hot tub holds 6-8 people with an inside heater and 10 people if the heater is assembled on the outside.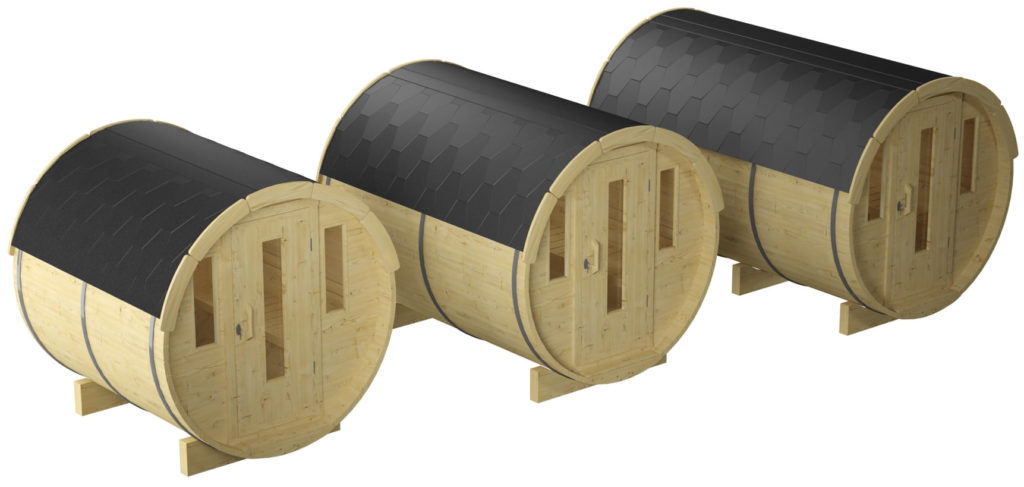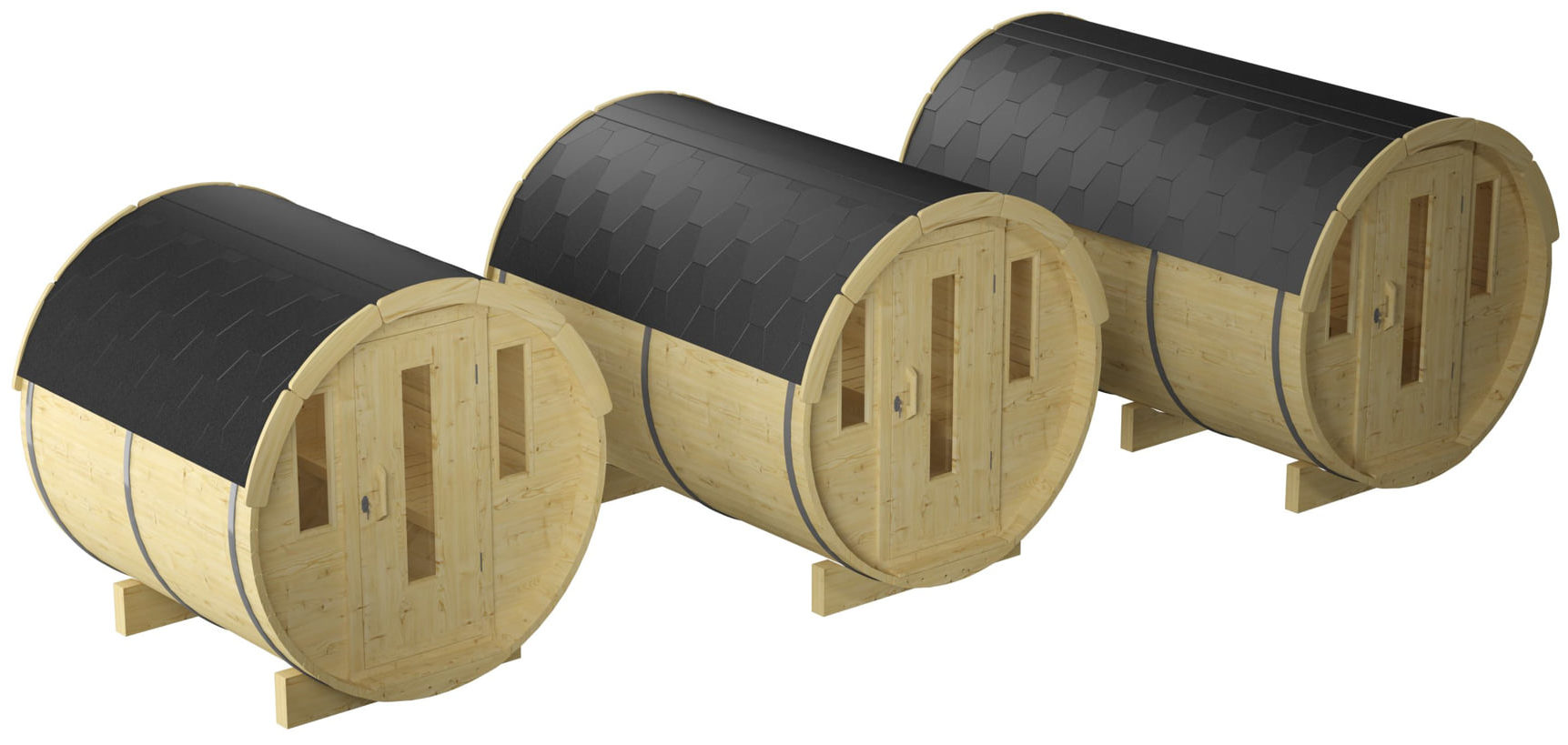 What is included with every wood fired hot tub kit
Qur wood fired hot tubs are delivered as flat-pack kit. Optional factory or on site assembly service is available too.
Each kit includes the following items:
A wood fired stainless-steel heater and chimney
Tightening bands made of stainless steel
Safety guard – to separate the heater from the bathing area (for tubs with internal heaters)
Benches
Wooden steps
Water outlet hose and valve
Besides the standard components, a wood-fired hot tub or electric hot tub comes with premium accessory items, including the following:
Wood cover
Water bottle holder
Wood chimney guard
Scoop and poker
We don't charge for extras!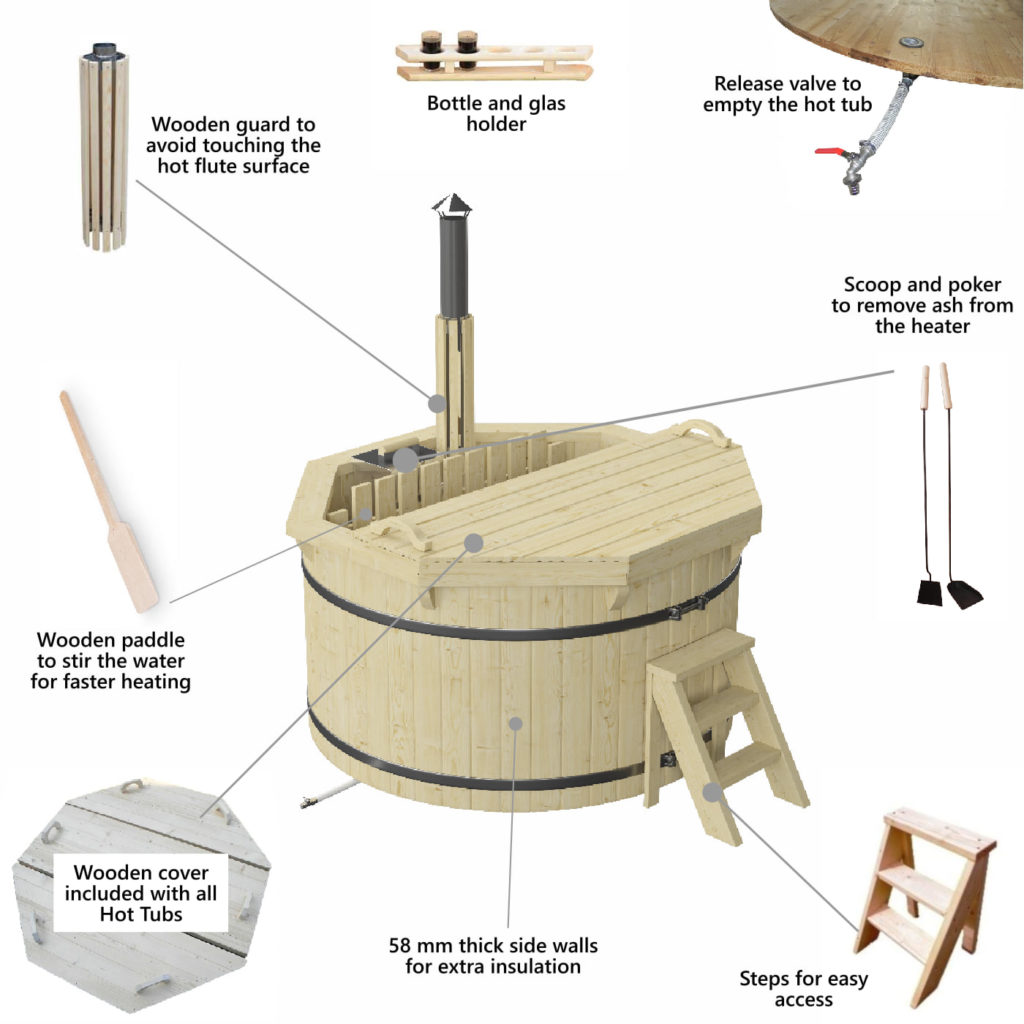 Wood fired Heater Specifications
Which heater is right for me?
Wood fired external hot tub heater
Advantages
1. The heater does not take up extra room within the hot tub, allowing for more space for the user to enjoy a soak.
2. It is simple to access the heater for adding firewood and for cleaning.
Disadvantages
1. Because the water is cycled through the heater outside the hot tub, the heating time is slightly longer.
2. You must exit the hot tub to add firewood.
3. This outside heater option is more costly.
Internal (submerged) hot tub heater

Advantages
1. Because the heater is immersed and in direct contact with the water, little heat/energy loss occurs.
2. This option is less costly.
Disadvantages
1. Cleaning the wood-fired heater and lighting requires additional time and attention.
2. Seating capacity is reduced as the heater takes up space inside the hot tub.
3. The chimney needs to be removed to cover the hot tub with the included wooden cover.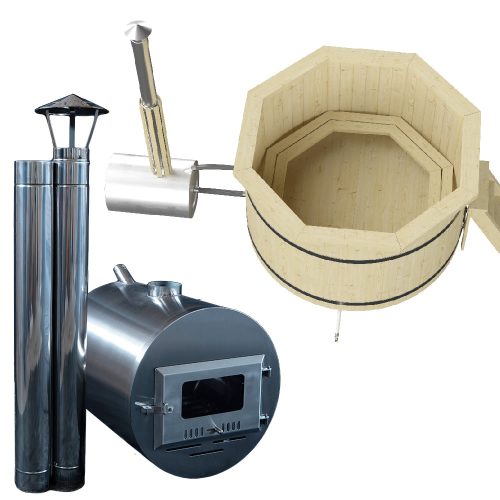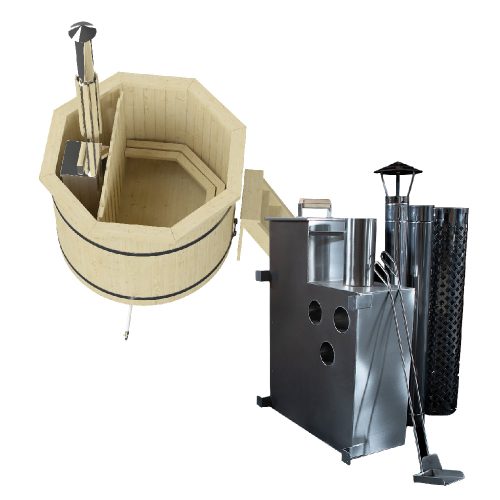 External wood fired heater
A wood fired heater located outside the hot tub.
The heater is made of stainless steel (AISI304) and has a 1.5 mm wall thickness.
The external heater provides additional room for at least two people.
The upkeep and operation of an external heater are straightforward.
The heater is simpler to stoke and clean.
It is easier to maintain a wood fired hot tub when an external heater is used.
Specification
Power: 22 kW
Diameter: 55 cm
Length: 63 cm
Chimney length: 1.4 m
Internal wood fired heater
A submerged (internal wood-burning) heater is located inside the hot tub.
Effective water heating is provided through the large water/heater contact area.
A wood barrier separates the sitting area and heater, preventing contact with the hot surfaces.
The heater is made with stainless steel, providing resistance to moderate acidic water conditions.
Specification
Power: 18 kW or 24 kW
Size (small): 0.78 m x 0.3 m x 0.8 m
Size (large): 0.96 m x 0.3 m x 0.8 m
Chimney height: 2+ m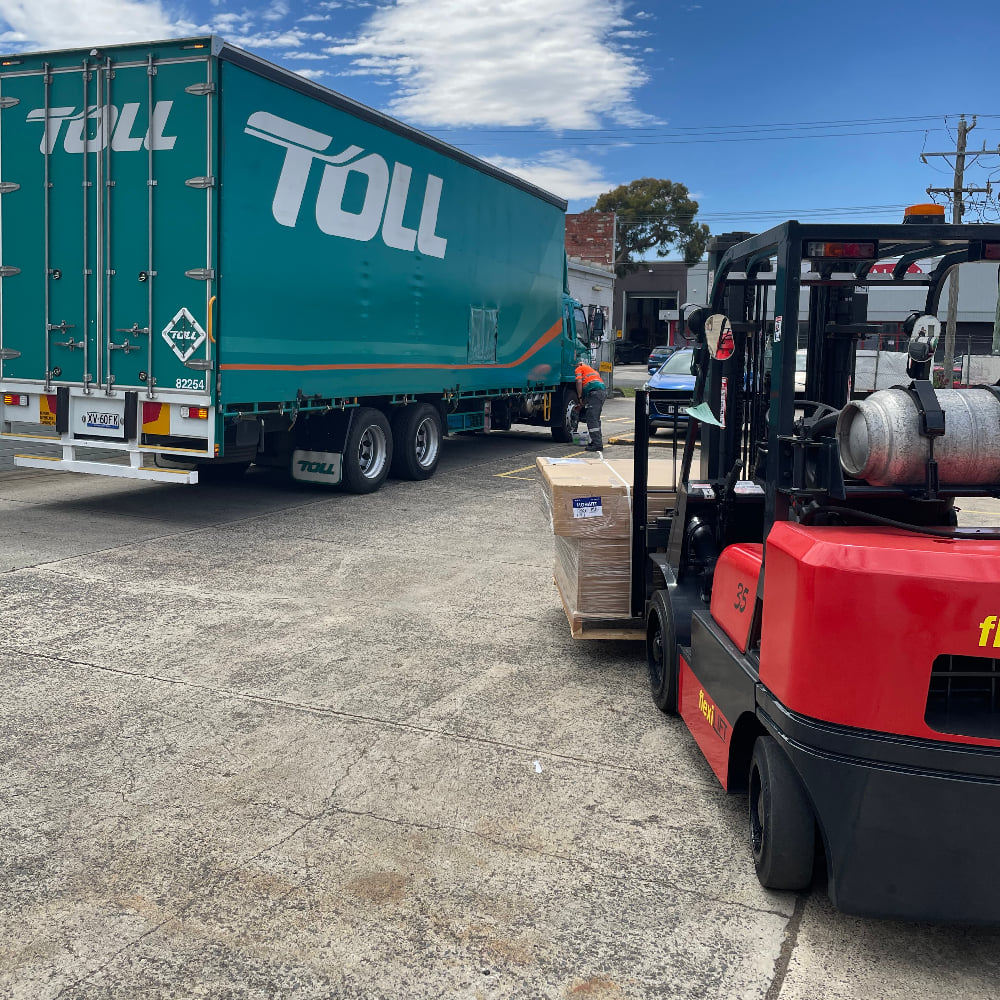 Unlike many other companies, we normally keep inventory at hand.
Our wood fired Hot Tubs are delivered as hot tub kit (flat pack) to a depot near you.
Factory assembly or assembly at location are avilable as an option (freight cost of assembled hot tubs is approx.30-50% higher).
Size of the unassembled hot tub flat-pack kit is 2.2m x 1.2m x 0.8m
 Our most economical option is shipping to one of freight our depots located nearest to the final destination
The flat-pack kit fits comfortably on the tray of a single cab ute
Alternatively we can arrange last mile transport and installation of the hot tub with a crane truck
Some of our recent Customer Projects