Hot Tub Range
Nordic Spa wood fired hot tubs are made from Scandinavian spruce, stainless-steel tightening bands, stainless-steel heater with chimney (inside or outside hot tub), wooden benches inside, wooden cover, safety fence for hot tubs with internal heater, outlet valves, access steps and include a very detailed assembly guide.
Hot Tub Size
Heater Options
Volume [litre]
Weight* [kg]
Kit Size [m]
Assembly Time** [hr]
Capacity [persons]
1.5m Diameter
Inside (Standard)
Outside Round
1,600
190
2 x 1.2 x 0.7
4
4 (inside heater)
6 (outside heater)
1.9m Diameter
Inside (Standard)
Outside Round
2,250
315
2 x 1.2 x 0.7
5
6 (inside heater)
8 (outside heater)
2.2m Diameter
Inside (Standard)
Outside Round
3,420
350
2.2 x 1.2 x 0.7
6
8 (inside heater)
10 (outside heater)
*Empty (kit weight)
**Assembly time estimated approximate based on 2 persons
Keeping hot tub water clean
To keep the water clean and extend the time between water changes, there are 2 main aspects: organic (leaves, algae, etc.) and non-organic (sand) contaminants.
In general, and for non-commercial use, there is rarely a need to change the water after every use. How often the water should be changed depends on the frequency of use (how often and by how many people each time).
For commercially used Hot Tubs, the water should be changed more frequently. It is very similar to how the water is managed in a whirlpool spa.
How to extend the time between water changes
Reduce non-organic contamination
Take a shower before using it (not to introduce too many solids, like sand, into the water)
Reduce organic contamination
Cover the Hot Tub with the included cover when not using it to minimise algae growth (algae needs light to grow)
Eliminate organic contaminates and odours by using Ozone (chemical free, for example Zodiac Spa OxyFresh)
Test the water often with a water testing kit/test strips (PH, alkalinity and TSS (total suspended solids) and change the water if the limits are exceeded
General Hot Tub Care Tips
Don't use salt water (long-term exposure causes corrosion of the stainless-steel heater)
For very frequent use (typically commercially), we recommend using a sand filter pump to filter out solids/sand
Don't leave the hot tubs empty for extended periods of time to avoid drying of the saturated wood (and potential cracking)
Hot Tub Dimensions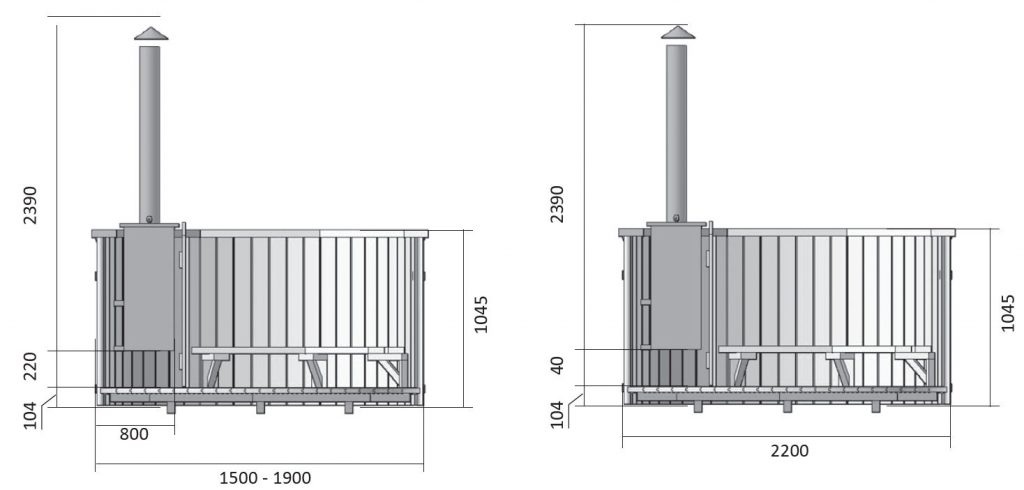 Recommend timber treatment
Recommended outside treatment and protection:
1st: Pre-treatment with water-based wood preserver
2nd: Paints or wood stains to prevent the UV light from the sun to break down the surface of the wood and also to protect against rain penetration
The second stage would typically be repeated every 1 to 3 years, depending on weather conditions and exposure.
Inside cleaning and maintenance:
Brush the inside wooden surface when the hot tub is empty (for example, using a soft brush and pine soap and a good rinse after)
Do not leave any dirt in the hot tub as the bacteria can form a slippery coating. To avoid this from occurring, disinfect and clean the inside of the wooden hot tub on a regular basis
Maintenance of the metal straps
Please regularly check the straps, at least on a monthly basis. The straps should be adjusted if it is necessary.
Selecting the heater – Internal vs. External
Internal (submerged) heater
Pros The heater is submerged and in direct contact with the water, minimal loss of heat/energy to the surrounding; cheaper than outside heater option
Cons More care is required when firing the heater up and cleaning the heater (wood is added from the top).
The inside heater occupies room inside the hot tub thus, the seating capacity is reduced
Chimney needs to be removed to cover the hot tub with the included wooden cover
Power: 18 kW
Size: 0.78 m x 0.3 m x 0.8 m
Chimney height: 2+ m
External heater
Pros No space is taken up by the heater inside the hot tub thus, more space for people to take a bath; easy access to add firewood and clean the heater.
Cons Water is circulated through the heater outside the hot tub thus, some minor loss of heat/energy will occur
Need to get out of the hot tub to add firewood (although once heater is running it stays hot for some time)
Hot tubs configured with an outside heater are more expensive than the inside heater options.
Power: 22 kW
Diameter: 55 cm
Length: 63 cm
Chimney length: 2+ m
The difference in internal vs external heating time is in most cases negligible.